This Sunday we had beautiful sunshine in Las Palmas and Bojan from Bomarin came and instructed us how to use our new parasail. It was a rather heavy swell, but initially only around 5 knots wind. These were not optimal conditions, as the sail get as much pressure from pendulum in the swell as from the weak wind, but it was worth a try. There are many shackles and sheets and it might be a little bit confusing in the beginning, but with the right guidance and practise, it worked out very well and we hope we can use the 170 square meter large Parasail on a significant part of our crossing. It should be able to handle a broad downwind AWA and should work well from open reach to dead run. We were curious and a bit excited, as this last minute (3 days ago) decision to invest in a Parasail and to get it delivered from The Netherlands, was a bit of "buying the pig in the sack".
Now we were fully engaged in deploying it. When the "foot" is secured and the sail, in its snuffer is hoisted, the next step is to take off the snuffer through carefully liftening it, by pulling the control line. Actually it is very easy, you just have to watch what's happening when the snuffer goes up and be careful when the "wing" or "jelly fish tentacles" are about to be set free. The last part up is easy.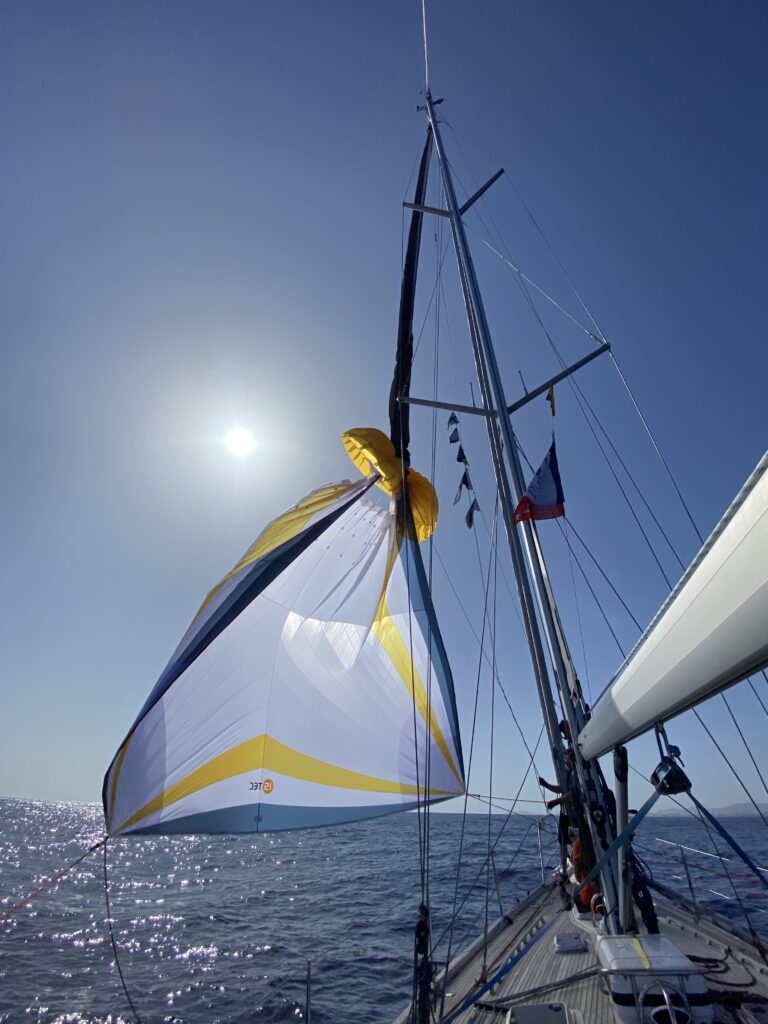 When the sail was out, it was rather easy to control with the sheets and we even gyped a few times. We also think it looks quite pretty, with Swedish blue and yellow frames around the large white area. We are optimistic that it will add speed and more importantly, comfort while sailing downwind. At least initially we will set an upper limit of 20 knots for deploying it.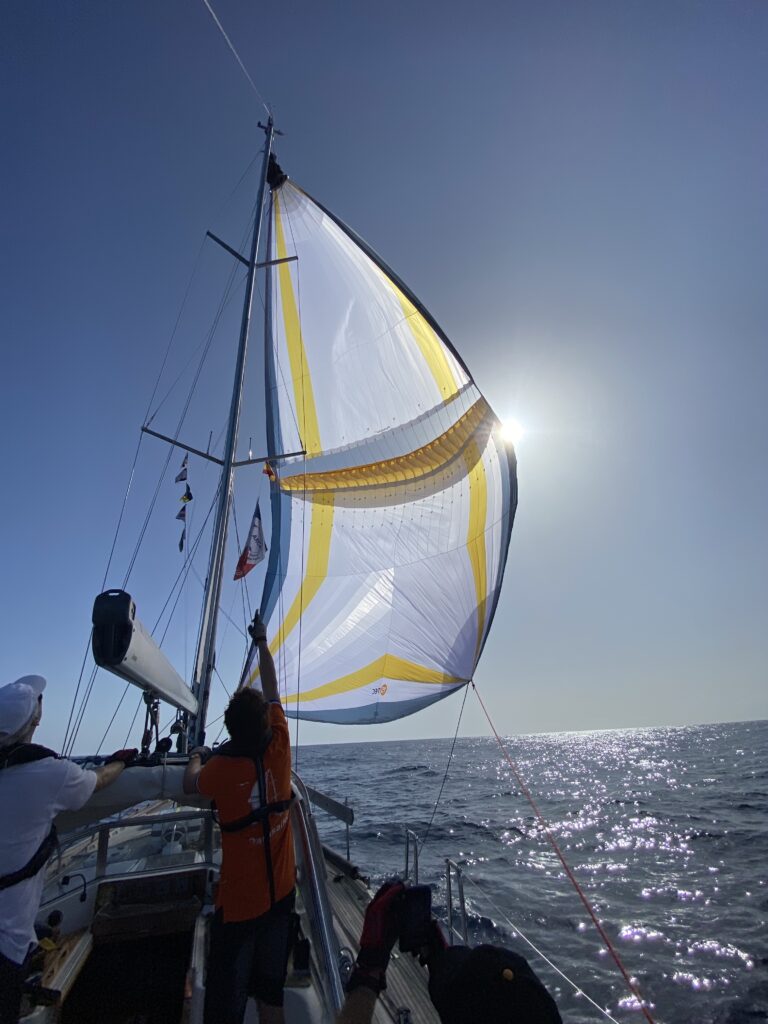 At noon we were invited to take part in the baptism of Karin and Holgers new Leopard 45 catamaran: Riverside. It was built in South Africa, but Covid-19 stopped them from flying to SA to get it. Through OCC, they got in contact with George who made the delivery sail to Tenerife just a few weeks ago. From the bottom our hearts we wish River Café, Karin and Holger and all their crew, safe sail, fair winds and all happiness on the seven seas. They have in short time become very dear friends and we feel blessed to sail alongside with them (or maybe slightly behind…) in the ARC+ rally to Saint Lucia.